Jim Verquist
Innovation Consulting
in·no·va·tor /ˈinəvādər/noun
a person who defies convention to bring unorthodox ideas to life, and succeeds against the odds.
Introducing whitespace projects
Startups are nimble. Established companies aren't. That's a rule with few exceptions. Whitespace projects provide a simple solution.
Whitespace projects are self-directed projects that employees work on in the whitespace of their jobs. No permission. No funding. Just one tiny step at a time. The ground rules are simple: never create risk, and never let it interfere with assigned duties.
See a problem in operations? Great, go fix it. See a new market opportunity? Great, go unlock it. Think someone is fumbling product design? Great, go try a new approach.
At 3M it's called "bootlegging". At BMW it's called "U-boat projects". These projects have a long history of success.
There's something special about solving problems we weren't hired to solve.
"If you put fences around people, you get sheep."
—William L. McKnight
"If everyone is thinking alike, then somebody isn't thinking."
—George Patton
Inspired by mavericks
Whitespace projects aren't new. There has always been the occasional "maverick" employee who tackles problems they weren't hired to solve. They don't ask permission. They just do it, under the radar. They still do their regular job. But they also work on their whitespace project, whenever they can free up some time.
But most people aren't mavericks. Whitespace projects are unauthorized. That's usually the only way forward. It's hard to sell ideas. Projects with traction sell themselves. Mavericks are the 1 in 1,000 employees willing to venture out alone like this, regardless of the obstacles.
Why make it so hard? Whitespace projects create big wins from unexpected places. They protect companies from blind spots and bad decisions. And they energize employees. It makes no sense to kill this off. Yet that's what managers usually try to do.
Mavericks may be willing to risk their careers to do what they believe is right for their companies. But most people aren't. And they shouldn't have to.
Now there's a model to bring whitespace projects into any company, at scale. The model is the result of a 3 year R&D project, and builds on earlier models pioneered at 3M, Google and HubSpot. It's a fast path to nimble, with four key advantages:
No change to management model
No risk or disruption to operations
Clear boundaries for self-directed projects
Opt-in model
"One person with passion is better than forty people merely interested."
—E.M. Forster
Create a "volunteer army" of change agents
Whitespace projects let you create a "volunteer army" of change agents right within the hierarchy. They still do their regular jobs. But they also voluntarily take on the extra work of exploring new frontiers. This happens under the radar, where it won't cause any harm.
John Kotter calls this a "dual operating system." ("Accelerate!" Harvard Business Review, Nov 2012)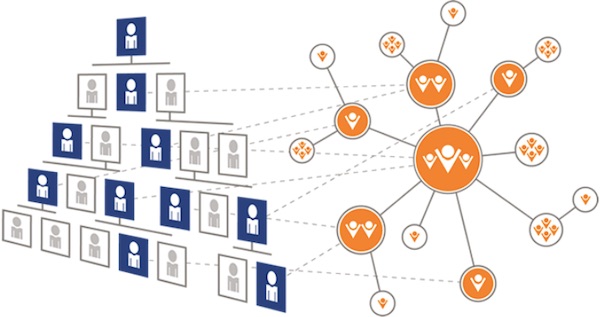 This gives you the best of both worlds. The hierarchy delivers reliable, efficient execution of the proven business model. Meanwhile, the volunteer army of change agents delivers endless options for change+innovation. Managers sponsor the projects they like, and ignore the rest.
You can get 2.5%-4% of employees to "opt in" to whitespace projects in just 30 days. You can get 10% of employees to opt in within 6-12 months. That's all you need to be nimble.
Employees that lack the freedom to experiment with their ideas, will lack the interest to implement management's ideas.